So, if you've read the acquisition story then you already know how we came to own (at this point) an IBM 360 and a bunch of peripherals. If you haven't read that already, I throughly suggest you go and check that out first! You can read that story here.
So, the auction was won. The auction house (Auktionshaus Weidler) was contacted, flights, hotels, car rental and a truck with a tail lift were booked. Storage was organised. A few days later Adam was on a plane out of Stansted to Nuremberg ready to go and review the machines location, pick up a truck the next day, collect Chris and John (Chris's dad) from Nuremberg airport and make the big move. Let's just say it didn't quite work out that way… Read below for Adams personal account.
So, my flight landed at around 10:25 in the morning in Nuremberg, I headed to the Europcar desk and got the keys to my BMW 1 Series. Not my favourite car, but more than adequate and at least it was German! I wasn't due to meet our German contact until 14:00, so I had some time to kill. I drove to where the machine was located to find the building and did a bit of work in the car. About an hour later I wandered down to the building and our contact, Günter Hiller, was already there in the Glass shop next door. We greeted each other, completed some formalities, and entered the building via the side door.
I can't say I was particularly prepared for what I was about to find. I spent a lot of my youth wandering around abandoned buildings and working on old computers, and although it's quite rare to actually find one it's not unheard of. This however, this machine had clearly been operational in this obscure and unassuming building down a side street in Nuremberg, although it had clearly been there for an exceedingly long time sitting gathering dust. The machine was cabled together under the false floor, but there was random detritus surrounding it. Car wheels, books about Tennis, Tennis rackets, chunks of wood and all sorts of other things filled the space around it.
Once I'd gotten over the initial excitement of seeing the machine for the first time, we discovered the first problem. Günter informed me that the only useable access to the building was provided via the side door we'd entered through. This side door had 3 steps leading up to it. For the uninitiated, the processor of an IBM 360 Model 20 weighs up to 620KG. Further, the internals are wire wrapped and not something you'd want to be dismantling inside of a building on a tight timeframe without power or manuals. To make this worse, somebody had decided in their infinite wisdom to run a mains water pipe lagged in foam behind the door impeding it's opening to anything past 45 degrees!
I spoke to Günter and informed him that there was simply no feasible way the machine was going to exit the building via this door, and we needed to find another way. There was a front door, but this had clearly not been opened since, at a guess, the late 70's or early 80's. Nobody had a key, and to worsen the issue the false floor in the building was built right up to the door blocking any way of opening it. This door however did exit to street level with a small step, Günter said he would talk to his boss who would talk to the buildings owner and see what could be done. A glimmer of hope!
Once I started looking at the machines I noticed a second issue. Most if not all small/medium sized IBM machines from this era are equipped with wheels, this should in theory make them easy to move, except this building had been rather damp and this had lead to them sinking into the false floor tiles rendering them immovable. I made note of this issue and moved on.
I measured all of the machines to figure out if they would fit through the door and also figure out how much storage space we would need and the size of truck we would need. More on this later!
One concern we'd had when looking at the advert was whether or not there would be any cables with the machine. A cursory glance inside some of the cabinets confirmed that there were indeed cables, and they were run under the floor! Okay, the machines been operational in here. We had sort of assumed somebody had pulled it out of their employers scrap heap and dumped it in a building, but no, this had at some point been in use here.
Once I started actually looking at the machines, I noticed something. We had not one, but two IBM 360 Model 20's! Most of the machines are painted in Red and have English writing on the buttons, but in the corner with its cables wrapped around it is a Blue 360/20 with German text on the buttons. Further, behind that, was an IBM 370 model 125!
At this point I said to Günter that I'd need to go away and think about possible options, and he needed to discuss this situation with his boss and the buildings owner. We agreed that the likelihood of moving the machine that week was exceptionally low and we should reconvene the next day at 12:00 after John and Chris had arrived so they could get a look at the machine and we could formulate a plan. I went off to check into the hotel and wandered by the river in Nuremberg to find some dinner. I found Wiener schnitzel (the greatest food ever invented) and local beer and my stomach was contented, even if I was somewhat concerned as to how we were going to extract our new purchase from it's current home.
The next day I collected Chris and John from the airport and we went to the German equivalent of B&Q which is called Bauhaus. I feel as though calling it the equivalent of B&Q is doing it a severe disservice. Bauhaus has to be the single greatest hardware store chain on the planet. It's amazing. You're not here to read my review of German hardware stores though, so I digress. We purchased some Gloves and P3 rated dust masks (I'm assuming at this point the building is full of asbestos – better safe than sorry!) and headed off to the building to meet Günter.
I showed Chris & John around and explained the problems. Günter then informed me that he'd spoken to his boss & the building owner and they were happy for us to remove the front door by any means necessary provided the building was left secure. Works for me! A plan was formulated. We would remove the front door, construct a ramp, hire a 3.5t box van with a tail lift and extract the machines one by one. We would use air bag jacks to lift the machines and slide boards underneath the wheels to free them of their sunken floor divots. Perfect! Heres some pictures of us having fun looking at the machine:
We asked Günter if he would meet us for dinner and a beer, and despite the fact that he doesn't drink, he agreed to meet us at the Auction house after close. We arrived slightly early and had a look around – we could tell this auction house wasn't particularly used to selling IBM mainframes! Their building was mostly filled with Russian religious art, ceramics, tapestries and rugs. We arranged with them then that we would return on the 7th of May to tackle the door and construct the ramp. We would then return again on the 16th and 17th of May to extract the machine. Okay, we've got a plan.
Günter kindly took us to show us the old town of Nuremberg, which I must say is very beautiful. He took us to a local whisky distillery and then to a lovely restaurant where we ate Schnitzel and drank more beer.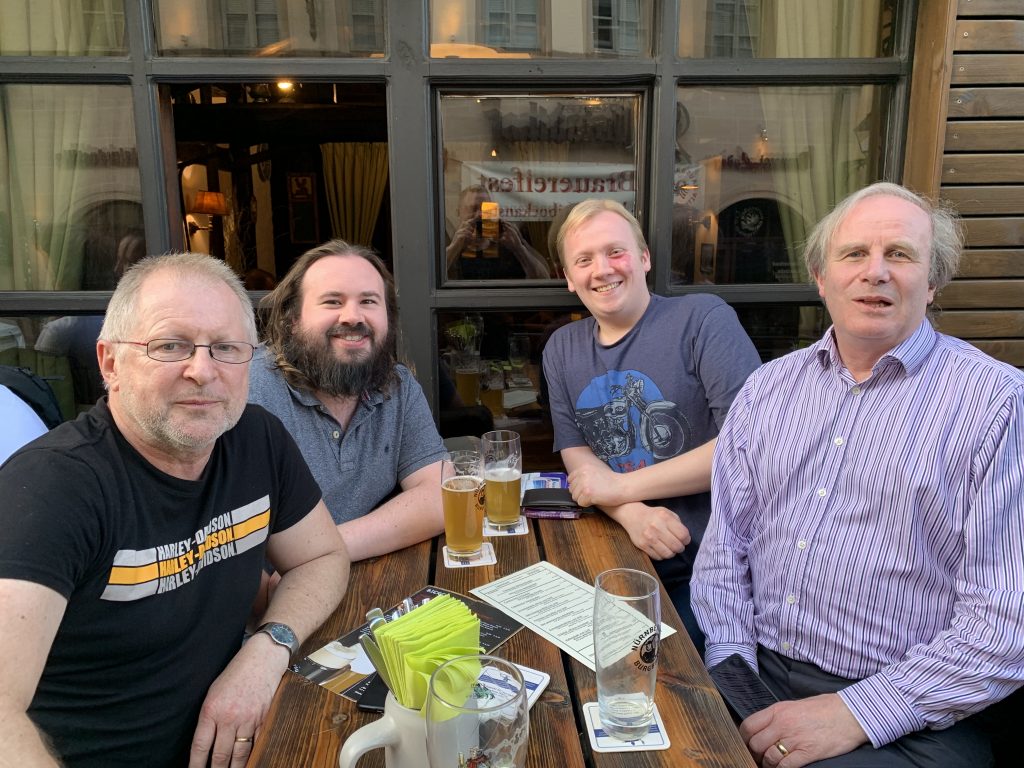 We had another day or so to kill in Nuremberg so we spent the day being touristy before returning home to plan our next visit!